Click on pictures for larger views.
Vintage Brooch Page 1, 2, 3, 4, 5, 6, 7, 8, 9, 10
---
Black Glass Bead Rose Flower Brooch
Very detailed black rose pin. The rose is made up of seeded black glass beads. The flower part is in wonderful shape but the string of beads on one leaf is coming loose and the other leaf doesn't have any. The beads making the flower itself are on wire to hold the shape. measures 2-1/2" x 1-1/2" $25.00
---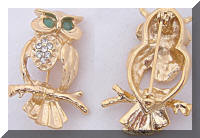 Vintage Green Clear Rhinestones Gold tone Owl Brooch Pin
A cute gold tone owl pin with green eyes and clear rhinestone belly. This pin is in excellent shape. I found it at an estate sale where the grand child said that her grand mother bought tons of jewelry years and years ago but never wore any of it. This pin measures 1-1/2" x 1" at the widest points. #1050701 $20.00
---
Vintage unsigned Schreiner Chalk White Rhinestones Flower Brooch

A very dimensional flower pin with milk glass navettes and chatons. The center large chaton is set in upside down, which is one aspect that Schreiner was known for as well as their dimensional florals. All of the rhinestones are prong set in gold tone. This pin is in wonderful vintage shape. measures approx. 3-1/4" x 1-1/2" I did run this by the Juliana group but the thoughts there was probably Schreiner also. # 1110706

SOLD
---
Vintage Multi Colored Rhinestones Curly Q Heart Brooch

A pretty heart pin with green, yellow, purple, blue, and aurora borealis round cut rhinestones. The rhinestones are framed in textured gold tone swirls and prong set. This pin measures approx. 1-3/4". #8060742

SOLD
---
Stunning Gold tone Retro Moderne Floral Bow Vintage Brooch
A pretty gold tone flower brooch with a denim blue plastic center stone. The bow at the base is textured and curled, while the flower is smooth. Very dimensional. This brooch measures approx. 2" x 1-1/4" x 3/4" high. #7260841 $25.00
---
Pair of Whimsical Jeweled Diving Ducks Scatter Pins
A fun pair of gold tone birds, that I believe are diving duck brooches. They have faux pearls for the heads, a coral plastic cabochons for the bellies or bodies and paste set clear round rhinestones out lining the wings. These pins measure approx. 1-1/4" x 1-1/2". #8070818 $30.00
---

Delicate Coral Glass Cab Stick Pin
A pretty little stick pin with a pink coral glass cabochon head. The cab is set in a gold tone frame. This pin measures approx. 2-3/4" long. #7260848 $20.00
---
Pretty Vintage Cats Eye Stone Stick Pin
A pretty stick pin with a cats eye stone cabochon head. This stone has plenty of movement and various brown colors. This pin measures approx. 2-3/4" long. #7260849 $20.00
---
Sumptuous Retro Moderne Citrine Rhinestones Floral Vintage Brooch Pendant COMBO
A wonderful retro moderne gold tone rose flower brooch with yellow citrine marquise and round rhinestones. All of the rhinestones are prong set. This brooch can also be worn as a pendant! This piece measures approx. 1-3/4" x 1-1/4" #7260825 $32.00
---
Adorable Vintage Beads Rhinestones Christmas Tree Brooch
For a small pin, this one has a lot of details! All of the rhinestones and beads are wired to a pierced gold tone back in the shape of a tree, then that is attached to another solid gold tone tree to hide the wiring. Making up the tree starts with clear plastic flowers. The there are red, green, yellow and blue glass beads. On top of each of the beads are prong set small round rhinestones of the same color of the beads that it is set upon. All of that on a brooch that measures approx. 1-1/2" x 1-1/4". There are spots of wear to the back. #704087 $25.00
---
Cute Gold Tone Enamel Flowers Vintage Brooch
Antiqued gold tone filigree flower and leaves with an orange cabochon center and 5 tiny bright enamel flowers. This brooch reminds me of ART piece but not quite the same quality. Pretty none the less. This pin measures approx. 2-1/2" x 1-1/4" #6210816 $25.00
---
Art Deco Green Clear Rhinestones Bar Pin
A gorgeous Art Deco bar brooch with page set clear round rhinestones along the outside frame. Those are surrounding kelly green square cut bead set rhinestones. This brooch measures approx. 5/8" x 2-5/8". #3210922 Sale Pending
---
Vintage Retro Flower Rhinestones Scatter Pin
Pretty retro modern gold tone flower pin with clear round rhinestones. This little pin measures approx. 1" across. It is very well made. #0123693 $20.00
---
Vintage Red White Blue Enamel Flower Brooch
A patriotic flower power vintage brooch. This brooch has red, white and blue enamel with a layered 3D effect. This brooch measures approx. 3" across. #207108

SOLD
---
Vintage Golden Citrine Rhinestones Floral Brooch
A pretty quality little flower brooch of gold tone, citrine oval and round clear rhinestones. This piece reminds me of early Coro pieces, but a mark can not be found. This brooch measures approx. 2" x 1-1/4". #1301012 $30.00
---
Vintage Double Head Enamel Zebras Circle Brooch
A fun figural brooch. This double headed zebra brooch is gold tone with white and black enamel for the stripes. The zebras have blue round rhinestones for the eyes. No marks but very possibly a KJL piece. This brooch measures approx. 2-1/2" across. #5161016 SOLD
Click HERE to see matching earrings!
---
Vintage Rhinestones Elephant Brooch
An adorable silver tone frame elephant brooch. This brooch is silver tone with clear round rhinestones, a red rhinestone eye, smoky grey (black diamond) baguettes and marquise rhinestones. This brooch measures approx 2-1/2" x 1-3/4". #516106 $35.00
---
Vintage Celluloid Rhinestones Art Deco Hat Pin
A wonderful Art Deco Hat pin or Jabot that can also be used as a collar or lapel stay. It is a peach color celluloid with clear round rhinestones. The end that comes apart is screwed on for security. This pin measures approx. 3" long. #5161010 $38.00
---
Vintage Art Deco lack Celluloid Rhinestones Leaves Brooch
A gorgeous black plastic celluloid leaf brooch with clear round rhinestones. This brooch measures approx. 3" x 1-3/4" at the widest points. issues: a hot pin stick was done (not by us) on the back. #5161015 $65.00
---
Vintage Aluminum Lady with Parasol Brooch
A beautiful figural brooch of a lovely gowned lady walking with her umbrella. This pin is made of a stamped aluminum. The stamps are indented and polished for a sparkle effect by catching the light. This brooch has a c clasp. It measures approx. 1-3/4" x 1-5/8" at the widest points. #423106 $38.00
---
Vintage Rhinestone Coiled Snakes Scatter Pins Pair
2 small scatter pins. These pins are silver tone with pave set clear round rhinestones from head to tail of the small coiled snakes. These pin measure approx. 3/4" across. #814106 SOLD
---
Vintage Carved Yellow Celluloid Fish Brooch
A fun carved butterscotch celluloid fish brooch with aurora borealis rhinestone accents. I believe the rhinestones are not original but added as accents later. The could probably be taken off with no damage to the original piece. It has a c clasp with no safety. This brooch measures approx. 2" x 1-1/4". #129117 $45.00
---
Gorgeous Vintage Rhinestones Wreath Brooch
A wonderful quality brooch made up of small clear marquise rhinestones. All of the rhinestones are prong set in silver tone. This piece would be perfect for a bride's wedding day! This brooch measures approx. 1-7/8" x 1-5/8". #206113 $50.00
---
Vintage Green Enamel Rhinestones Flying Fish Brooch
A fun rich enamel green flying fish with clear round rhinestones for the face and a green rhinestone eye. All that is placed on gold tone plating. This fish measures approx. 2" x 3". #105124 $38.00
---
Vintage Golden Rhinestones Church Brooch
A pretty country church ready for winter Christmas brooch. This brooch is antiqued gold tone with red, yellow and green baguette and red, clear and yellow round rhinestones. In the bell tower or steeple is a dangling yellow rhinestone. It also has white enamel for snow. This brooch measures approx. 2" x 1-1/2". #105126 SOLD
---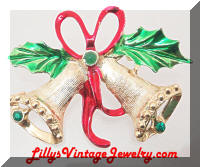 Vintage Christmas Bells Brooch
Pretty festive golden Christmas bells brooch with red and green enamels and green rhinestones for accents. This brooch measures approx. 2" x 1-1/2". #1051210 $28.00
---
Vintage Medieval Court Dancers pair Brooches
A silver tone pair of figural brooches depicting a man and lady medieval times court dancers. These brooches measure approx. 2" tall. #105125 $40.00
---